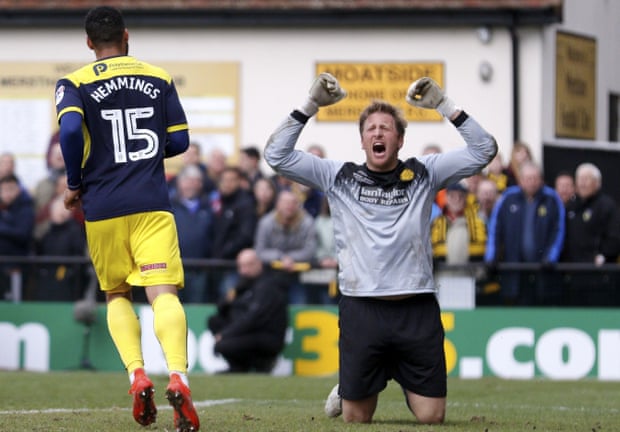 They came to watch a public execution; a symbolic act, a nod to a forgotten past, an annual ritual turned into a form of entertainment. It wasn't Guy Fawkes Night, it was the FA Cup.
BT, along with the BBC and the cup's corporate sponsors have bought a narrative which involves small teams beating big teams. This is particularly true in the earlier rounds, before the big teams take over. Global sponsors don't want the big teams getting beaten, that would spoil the product for the worldwide audience. Early on, though, they salivate at the prospect of a giant killing, with blood dripping from their teeth, they seek it mercilessly.
I doubt even people in Merstham care much about Merstham football club. They probably lie awake in the dead of night worrying about how they're going to maintain the mortgage payments on their extravagantly overpriced houses as a result of Brexit. Football, in the main, is something that happens on TV, not in their village. I
In truth, the TV companies don't care about Merstham or Oxford, they just care about The Narrative. The Small Team of normal people beating The Big Team of overpaid superstars. Every year they want to recreate a Ronny Radford moment, but it never quite comes. They keep trying; if they can get themselves a giantkilling, then they will be sated never to return again, the only sign they were ever there are the tyre tracks from their mobile TV trucks.
We have to talk about pluckiness and giving a good account of themselves, but Merstham didn't understand their role; their manager seemed like a lovely bloke, so happy and excited by the whole thing, but tried to turn the occassion into a football match, talking about 'false nines' in an attempt to gain the upper hand.
Tactics, though, only really work when everything else is broadly equal. He was never going to outfox a club with our quality. Really, he should have focussed on turning the game into a brawl; a big mess of a game that we didn't recognise. But it was all too friendly and polite, they would play on our terms, not theirs.
Of course, the corollary of the giant killing is the minnow killing. It is what makes the giant killing such an attractive narrative; that it happens rarely, certainly not to the demands of television. Ours was a killing which had all the classics of the genre; the moment of true class from Alex MacDonald, the killer goal just before half-time when minds have started to drift, the swift double which destroys spirit and souls, and the late killer blow when legs have turned to jelly. Typically only one or two of these is enough, we conjured up a raft of them.