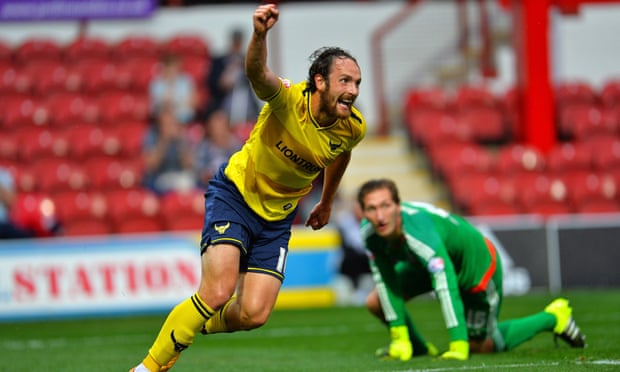 It was like watching the final scene of a particularly gruesome episode of Game of Thrones. One where a much loved character gets eviscerated in front of your eyes.
When the news came in that Danny Hylton had turned down a new contract offer and signed for Luton, first there was disbelief, then shock, then anger, but all the while there was helplessness.
While Twitter screamed my office was silent as everyone soft-pedalled their way through the first day back after the Bank Holiday. On the screen there was indignation and barbarism. I wanted to claw at the screen to stop the news coming in, it was horrible.
There doesn't seem to be a good footballing reason for Hylton to leave. He's well loved and played the best football of his career at Oxford. It's possible he feels like he's pushing his luck being part of a League 1 squad and that if he came up against Sheffield United or MK Dons he'd get found out. 
I've heard players say (long after the event) that they chose to leave clubs because they were getting too successful and the pressure was too great. Could Danny Hylton be self-aware enough to think of himself as an imposter? Maybe he feels more comfortable in League 2.
Presumably the money was good and any smart agent will know that now is the time to cash in. The picture of Hylton with his Luton shirt hardly smacked of someone who had made his dream move, but you can read what you like into one photo.
Hylton brought a different quality to Oxford, he was an eccentric; a step away from increasingly measured and scientific approach Michael Appleton has brought into the club. Like Bez from the Happy Mondays, a googly eyed space cadet gooning around in front of a tight rhythm section. Signed by Gary Waddock, in many ways, he made no sense at all.
Is this a good move for Hylton? Financially, I imagine so, Luton are clearly spending heavily to secure their promotion ambitions having also signed Johnny Mullins. But, will Hylton perform outside the bubble of the Oxford coaching machine?
Over a career that's lasted a decade, nearly half of Hylton's career goals have come in the last two years, in 2012 he was charged with racist abuse. While I doubt that was malicious, it shows that there's a fine line between genius and madness. There's also his goal profile; 30% of his Oxford goals were scored in August. Half by October. While his workrate is immense he does appear to run out of steam quite easily. It's telling that at Christmas it looked like he was leaving for Hartlepool.
Getting the most out of Danny Hylton is not easy, but it's something that Michael Appleton managed to achieve. I think it was the application of Appleton's science which complemented Hylton's instinctive art. I don't think it will be easy to replicate elsewhere.
While I think he is replaceable, we lose a little something with Hylton's departure. I suspect if we are to compete in League 1 or go even higher, then we'll have to become much more measured and controlled, and in Hylton we had something very warm and human. We may never see his like again.