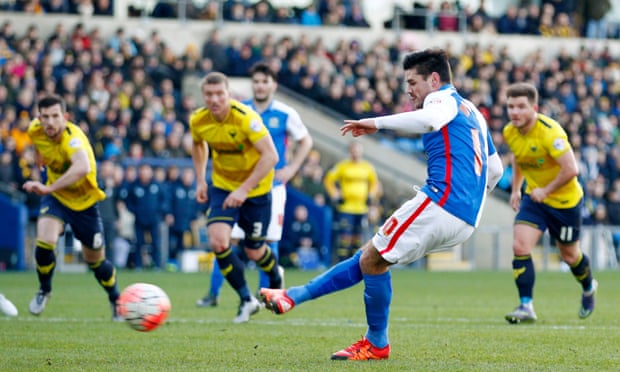 As the FA Cup progresses things get harder on three fronts; you're more likely to draw a better team, teams begin to take it more seriously because of the opportunities it offers and they're less likely to under-estimate lower league opponents because they know that, on their day, they can beat anyone.
Following the win over Swansea, we didn't draw a better team in Blackburn, but I suspect we would have given them a better game had we drawn them in the third round when we were more of a surprise. 
They came and played the tie as though it were a Championship game. The midfield was so packed that, at times, it looked like they were playing a 4-6-0 formation. It suffocated our danger men. In the end, we were average and made three mistakes, they were average and didn't. It's one of the revelations of the book
Inverting the Pyramid
that tactics in the modern game focus not so much on winning, but on not losing. And that was Blackburn through and through; be strong, don't make mistakes and make your chances count. It's telling that the goals came from two set plays and a bad mistake. As both Michael Appleton and George Baldock noted, we were never carved open.
It was effective, of course, not negative, just underwhelming. It's slightly depressing to think there's a culture in English football of teams who rely on muscle and set pieces to survive. But then, that's Blackburn, one the great 'meh' teams of English football, a team without the ambition or resources to move forward and who are fearful of falling further behind. Paul Lambert has acquired a reputation for mediocrity and his employers aren't exactly known for their long term rational management. I guess he's in preservation mode; a couple more disastrous tenures and he could fall out of football for good.
It's existing, but is it living?
It's a dilemma that we might face at some time in the future, whether you push on or hold your position. But that's not us at the moment. As the press coverage shows, we're an interesting and innovative club, exciting to be around. In so many ways we succeed spectacularly, I suppose it's only normal that, occasionally, we'll get it all a bit wrong.
If we're the hipsters' club du jour, then the farewell to George Baldock showed our metrosexual side. It was a genuinely sweet moment. Is this the product of the internet age? Social media gives us the perception that we have a closer relationship with players than before. When the child who got Baldock's shirt at the end of the game thanked him live on the radio, was it because Oxford and Baldock have developed a unique bond or just because mobile phones and digital communications allows this sort of thing to happen? 
There is a bit of a feeling in the air that the nature of the defeat and Baldock's departure is the sign that something is ending. Reality biting or destiny calling. This is all nonsense; the last few months have been the product of a relentless dedication to a process. It's easy to become distracted by the idea that there are mystical powers playing a part in dictating our future. 
Tuesday brings to a close an extraordinary period; despite only being 90 minutes from Wembley, I remain strangely relaxed about whether we progress or not. There is an increasing chunk of me that wants to get back to the reality of the league. Away from the pressure and disruption of big crowds, the intrusion of the press, the speculation about our players. As much as the big set-piece games are fun; in the end, I just want us to get promoted.