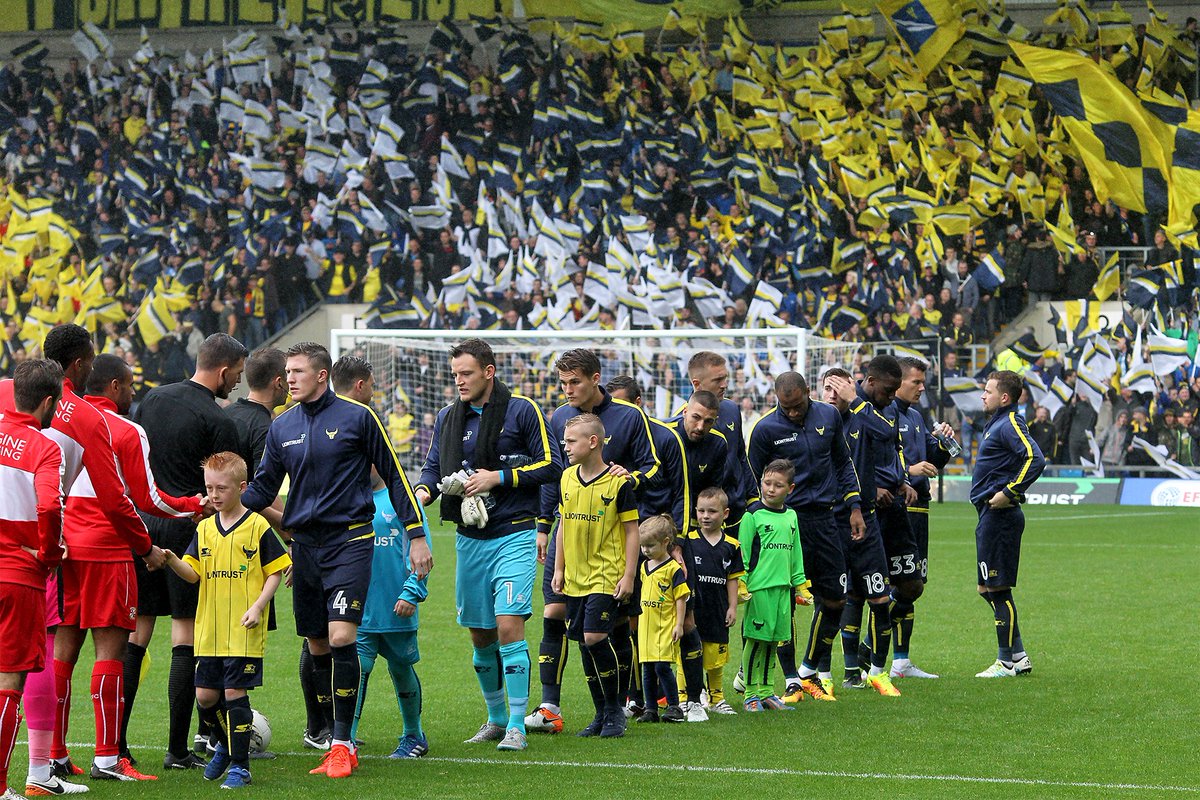 It's been a good week on the whole; two wins and a draw soured, to some degree, by flag-related acrimony off the pitch.
I've always felt that it would be difficult to truly judge the team this season until Christmas; so the Bury win gives us the opportunity to take stock of where we're at and where we're heading.
This week's events did seem to confirm what emerged over the last few weeks – this is a year of transition but we'll be OK. We're only 5 points from the play-offs, but our goal difference is probably more telling; for most of the season its sat at zero with the odd variant either way. That says we're competitive without being truly outstanding.
It's not that much of a surprise; it's wrong to say that last year was fortunate, but it was unusual to have the amount of talent we had playing in a League 2 side. Roofe and O'Dowda alone were worth £4.5 million. In addition, there was the curious case of Danny Hylton, signed by Gary Waddock, Jake Wright; a stalwart of the Chris Wilder years and the likes of George Baldock, who played in the Championship, and John-Joe Kenny who was on the bench in the Merseyside Derby on Monday.
It was almost a perfect combination, it still needed focussing and organising, but we had the assets to exceed our objectives. We went into this season playing in a higher division with most of that golden squad gone. The key question was; could the club's core infrastructure re-build and sustain the level of success?
Thankfully, the answer appears to be yes. We're not as breathtaking as we were last year, but the opposition is generally better and people are quick to forget that players like Jon Lundstram, Joe Skarz, Alex MacDonald and Liam Sercombe have all played a huge number of games in the last 12-18 months. We tend to think players are completely re-set at the beginning of each season but it's the same (slightly rested) bodies and minds that finished last season. Maintaining the physical and mental intensity is always difficult so it's probably not a surprise that their form has dipped slightly at times and they've been more prone to injuries.
As I say, last season's squad was worth at least £4.5 million from Roofe and O'Dowda alone. Look at the whole squad and that figure could have been pushed certainly over £5 million, perhaps six. It's been years since the club had playing assets of that nature in the squad. In essence we had a £6 million-plus squad assembled for virtually nothing.
While there was clearly investment in the squad, it's not like we needed to buy big last season so the club could focus on building value elsewhere. Essentially this meant building relations with the fans – organising club holidays, embracing the enthusiasm of the Oxford Ultras, improving merchandise, strengthening branding, actively working on social media, improving the match day experience and innovating with tactical marketing campaigns to get more people through the gates.
Most, if not all of it worked; crowds grew and I suspect merchandise sales did too. But it all comes at a financial cost there needs to be an increase in revenue to match it. The Roofe and O'Dowda money should still be there to some extent, some has been invested in the squad, more will be servicing debt, so it's not infinite. Assuming that Darryl Eales doesn't have barrow loads of cash, if the club is to progress onto the Championship – the level at which it is most likely to have sustainable future – it needs to find new ways of making or saving money.
This is the constant balancing act for all football clubs, a few weeks ago I was at the Etihad, they have banners which say 'The only club in Manchester' – implying their parochial roots of being the club of the people of the city. On the other side is a banner which say 'Thank you Sheik Mansour' acknowledging that it is not the people, but oil from the Arabian peninsula which has paid for their success.
All clubs have the same problem – they need to retain their core values because that's what fans buy into, but they also need to find new ways of funding success.
The podcast The Fence End Pod recently tweeted some Pathe News footage of our 1964 FA Cup tie against Blackburn as part of a Christmas advent thing. Footage showed no advertising boards around the Manor, no sponsors on the shirt, not even a kit manufacturer's logo. This is football at its very purest, played, run and funded by The People with no part compromised in the name of money. Most fans would hanker for such a thing now.
But it won't work now; attitudes have changed and the stakes are higher and more expensive. Clubs have to sell off bits of the equity they have in order to fund themselves, in more emotive footballing terms, they need to sell bits of their soul.
We generally accept that a bit of the sacred club shirt can be sold to a sponsor or manufacturer, or that your home ground can be festooned with adverts of companies trying to make money from your success. But it is a challenge to know when you've crossed the line.
Take, for example, the flag issue. Flags and displays have become a key part of Oxford United fan culture over the last few years. It has filled a void resulting from the move to the more sterile Kassam where people have to sit more passively in rows to watch a game.
But flags get in peoples' way, they obscure the view; it's why the club have agreed certain rules about when the larger ones can and can't be waved. In essence, you apply those rules in order to try and give more people a comfortable and consistent viewing experience in the hope that they will keep spending money to keep coming to games. So, we compromise some of the fan culture of the club – sell it off – for extra ticket sales.
There is nothing wrong with this in essence; it's generally accepted that if you go to the cinema or theatre you will be expected to behave in a certain way so that everyone enjoys the same experience. But in football, when does a comfortable fan experience turn into one which is sterile and meaningless?
It's a judgement call, but I think the club have got this one wrong in trying to apply restrictions to the use of flags during games. Each area of a football stadium needs to develop its own culture. When I started going, I would go onto the safe, and not too expensive, Osler Road with my dad. As I got older, I wanted to be in the more fevered atmosphere of the London Road – that was where all the noise and action came from. When we moved to the Kassam, I went into the Oxford Mail Stand but started to realise that those around me were getting younger as I got older. I became distracted by horny teenagers trying to impress girls, or the games of giving each other wet willies or simply the banal abuse of players and games. I found that I wasn't really enjoying being part of that experience so about 7 years ago I moved to the South Stand Upper because the overall experience suited what I wanted from a game.
The East Stand needs to be as fevered as it's possible to get; flags and singing are part of that, they are the engine room of the atmosphere. So long as people aren't getting hurt (and they're not, despite what Health and Safety zealots tell you), the more fevered it gets the better. If you don't like what comes with that – flags getting in the way or people falling over the top of you after a goal celebration, then there's the North Stand. If you get to an age where even that's too much, then the South Stand is a much calmer experience.
While the response from the Ultras seemed a bit over the top, it revealed a level of hurt that people haven't really talked about. The argument is not about whether a flag should be waved, it's whether the effort those fans put into the club is valued more or less than the commercial aspects of providing a consistent fan experience. If you think that there seems to be a core of 4,000 supporters who will follow the club whatever state it's in, there are currently another 4,000 per game on average who are more casual. The atmosphere in the ground and performance on the pitch are the two key influencing factors as to whether those 4,000 attend or not. That's £80,000 per game minimum, or £1.8m a year. I would rather we protected that than the odd fan who finds themselves in the wrong area of the ground and is distracted by a flag in their face. I say; let the flags fly.